Videos

Early referral and treatment is important! Join Dr. Amy Olson in this series of exciting, fast-paced videos on ILD and IPF.
Exploring the Patient Journey: Let's Talk About ILD and IPF (Series includes parts 1–3)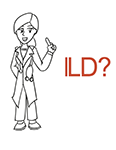 This series of short- and fast-moving videos are specifically designed for the primary care audience to address the continuing challenges in the early identification of idiopathic pulmonary fibrosis. Each short video includes dynamic animation, high-resolution (HRCT) images, and audio samples of what IPF "sounds like." Each video builds on the content presented in the previous one. We strongly encourage you to complete the modules in the sequence they are presented. To receive CME credit, you must complete all three videos.
---
Part 1: What Is IPF?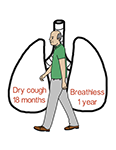 This video focuses on the key clinical features of IPF by introducing a patient case and reviewing the importance of physical exam and patient history.
---
Part 2: How to Recognize and Diagnose IPF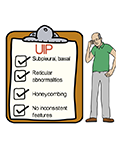 Here, Dr. Amy Olson discusses when to suspect ILD and which tests to perform in order to confirm diagnosis.
---
Part 3: The Importance of Early Referral and Treatment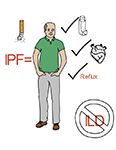 This final video explores the disease course, how to communicate and assess the patient's preferences and values, and reviews therapies for disease management.